Xingyuan Activated Carbon Rake Furnace / Harrow Furnace
---Old design but stable operation 1MT capacity
---Produce high quality AC 900-1200 iodine.
---Electricity consumption very low.
---Low investment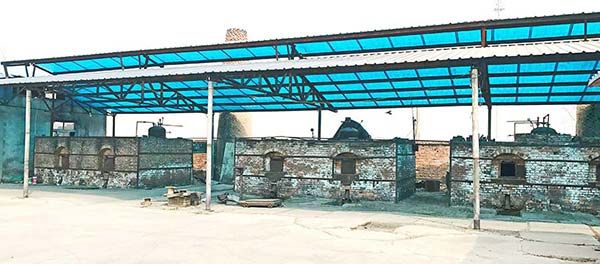 ---Xingyuan Biomass Equipment Brand---

What's the raw materials?
Xingyuan Activated carbon Rake Furnace / Harrow Furnace raw material is shell charcoal, bamboo charcoal or wood charcoal:
Shell charcoal like coconut shell charcoal, bamboo charcoal, olive shell charcoal, peach shell charcoal, apricot shell charcoal, candle nut shell charcoal, palm shell charcoal, hawthorn seed charcoal etc. or the charcoal from these shells . and variety different wood charcoal.
What's mean rake furnace or Harrow furnace ?
Rake furnace or harrow furnace means the furnace is operate by manually and tools is like a harrow. Rake furnace / harrow furnace also steam activation method.
Steam activation is in a two-stage process. Firstly the raw material, in the form of lumps, pre sized material, briquettes or extrudates, is carbonized by heating in an inert atmosphere such as flue gas, second stage is the activation stage which enlarges the pore structure, increases the internal surface area and makes it more accessible. The carbonized product is activated with steam at a temperature between 900C and 1100C. The chemical reaction between the carbon and steam takes place at the internal surface of the carbon, removing carbon from the pore walls and thereby enlarging the pores. The steam activation process allows the pore size to be readily altered and carbons can be produced to suit specific end-sues. For an example, the pore structure has to be opened up more for the adsorption of small molecules from a solution, as in water purification, than for the adsorption of large color molecules in sugar decolorization.
Xingyuan Rake furnace/ Harrow furnace for activated carbon making is the first generation kiln, already more than 20years life in Xingyuan factory. but according to the more different auto kiln come out, more difficult to find the operators.
Explanation for Rake furnace/ Harrow furnace Production Line Procedure:
1-Raw materials need to carbonize first before feeding into the activated carbon Rake furnace/Harrow furnace. With high temperature 8000-1100 degree, and about 12hours steam activation, can get the good quality of activated carbon products.
Shell Charcoal or bamboo charcoal or other wood charcoal by feeding-harrow mixing and activation-output--cooling then can be stocked for crushing and milling process.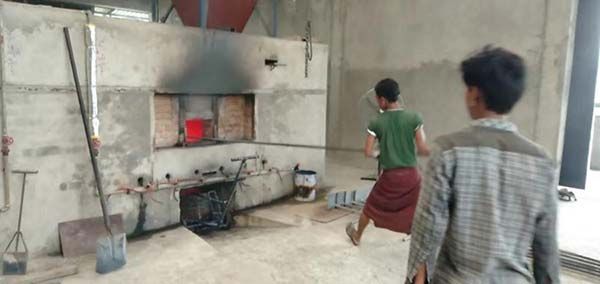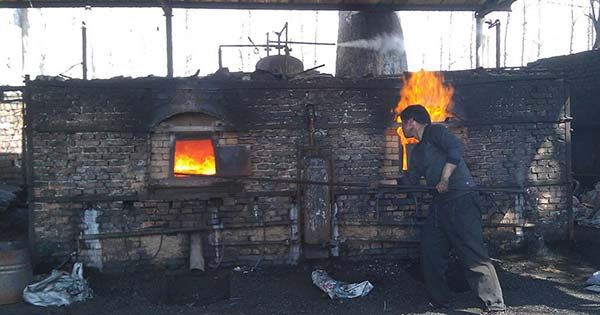 2-After activation by xingyuan rake furnace kiln, according to the customers' request, the raw activated carbon need to be crushed–packing –selling. but for some special request, need extra acid washing treatment.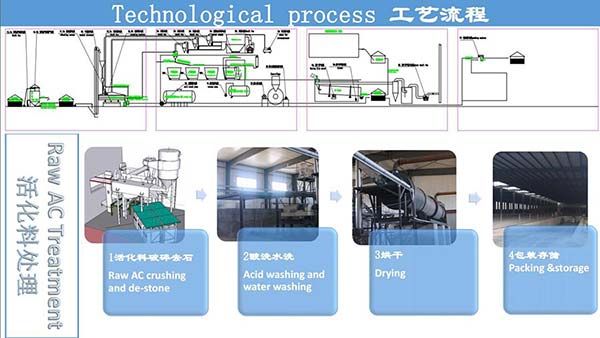 3—Testing is very important during the activated carbon running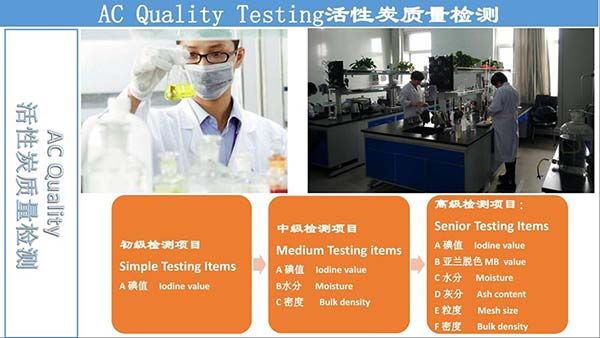 What equipment should equipped in a Rake furnace /Harrow furnace activated carbon factory?
A steam activation factory should be equipped its factory according to the procedure:
1---Crush the raw shell charcoal or wood charcoal into suitable size
2---Use Rake furnace/harrow furnace for Steam activation.
3---Raw AC. Treatment system, crushing and milling, also including acid washing or other procedure.
4---A lab for testing.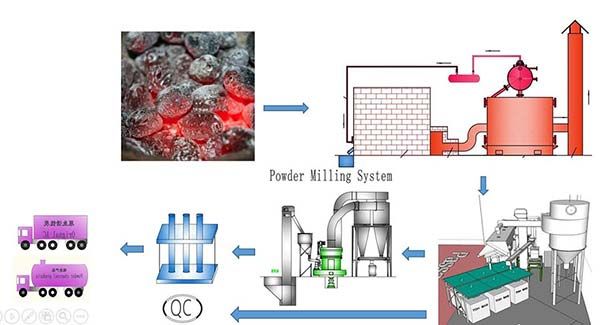 Activated Carbon Rake furnace/Harrow furnace factory design
This set of high efficient technology activated carbon furnace composition:
1- feeding systems
2- Activated carbon furnace main body
3- Output system
4- temperature testing system
5- Steam Creating system
6- Waste gas discharge
Xingyuan activated carbon Rake furnace specification:
ITEMS

Activated carbon Rake furnace/Harrow Furnace

PIC

Principle

Physical Steaming Aerobic Activation

Main material

1. red bricks &fire bricks
2. waste gas steam boiler system
3. structure stainless steel

Raw material

1. hard wood charcoal or shell charcoal (coconut shell, palm shell, peach kernel, hazelnut shell, apricot shell etc. )
2. granular mesh size or natural size

Size:

Size7*3.5*2.5m kiln, whole set take place
10*5*10m

Temperature

800-900 degree

AC quality

1. Iodine 800- 1100
2. hardness can reach90- 97, suitable for glold AC
3. can not use as carrier AC,
FOR NORMAL AC

AC application

A: water purification
B: Air clean
C: Chromed plated
D: Petrochemical industry
E: Gold absorbing

Capacity

1 tons per day /set
based on: iodine value 1000mg/g ASTM

Project time

30days installation,
5days training, 10days running totally 1.5month

Start fire

first time 2days, after 1 days

Electricity
consumption

160KW.H per day.

Shipping




Advantage

Produce high quality AC 1100-1200 iodine.

Electricity consumption very low.

Dis-Advantage

Labor work very hard, all operate by worker.

Capacity lower
Xingyuan Activated Carbon Rake furnace/kiln Different Size
| | | | | |
| --- | --- | --- | --- | --- |
| Model No. | Size MM | Chamber | Capacity (MT/DAY) | Measurement Standard |
| XYACM-RF01 | 4000(L)*3000 (W)*2500(H) | 2 | 1 | Based on IODINE VALVE 1000mg/g |
Remark: This is based on coconut shell activated carbon capacity, the data will different according to different raw material. details please contact us for more information.
Xingyuan three Type of Activated Carbon kiln and activated carbon machine
A:Rotary Kiln
B:Upright Kiln
C:Rake Furnace.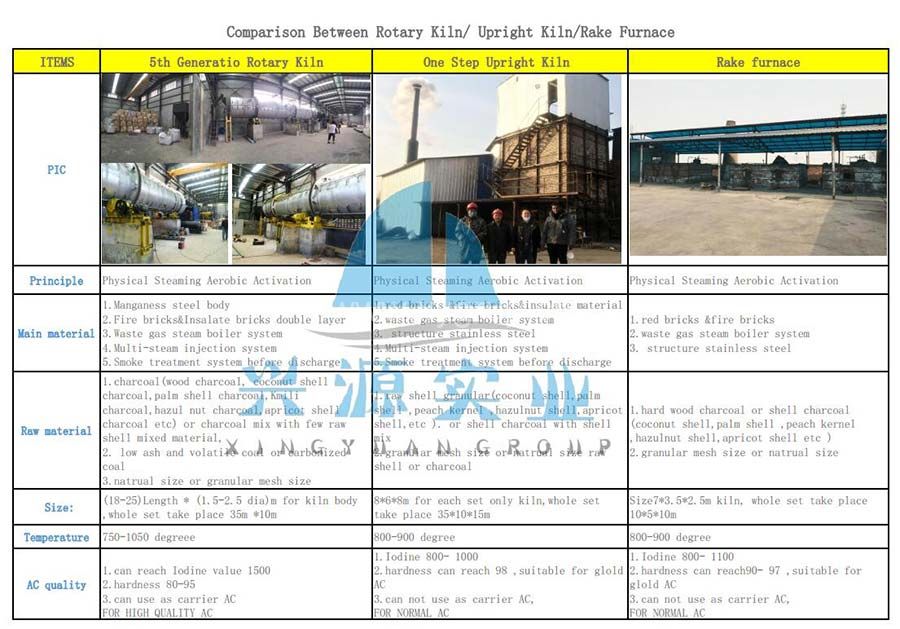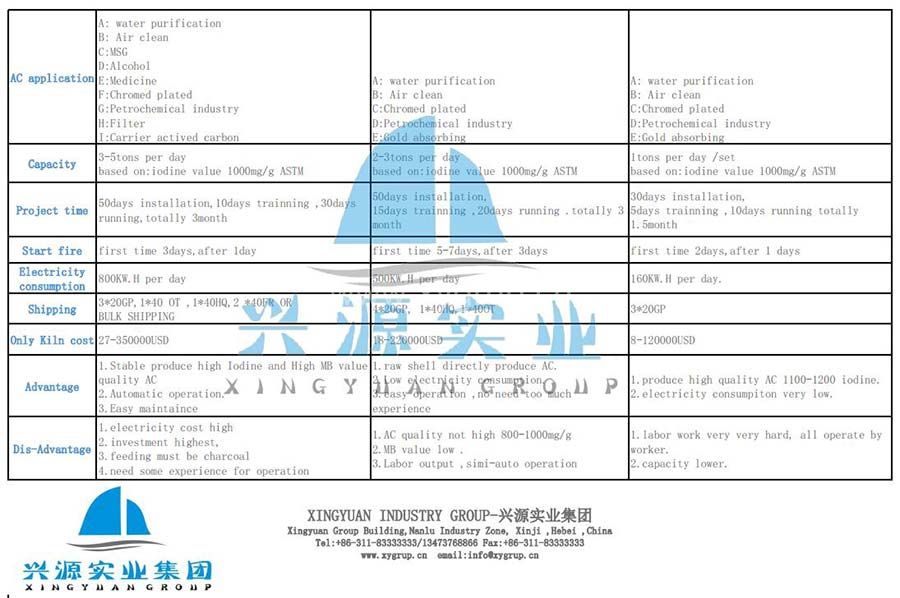 Contact us for more information:
Please contact with us and let us know your simple information and request for our products, we will feedback as soon as possible.