Xingyuan Gasification & Carbonizing System
G---gas, syngas for electricity
C---charcoal, wood charcoal or shell charcoal.
E---electricity from 200-nM KW, as design
L---- liquid , wood tar oil and wood vinegar .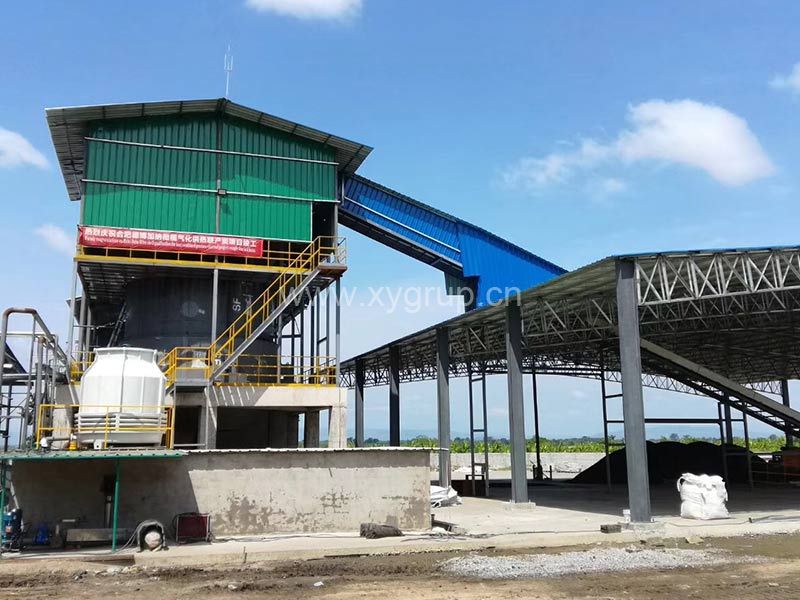 ---Xingyuan Biomass Equipment Brand---

---Xingyuan Biomass Technology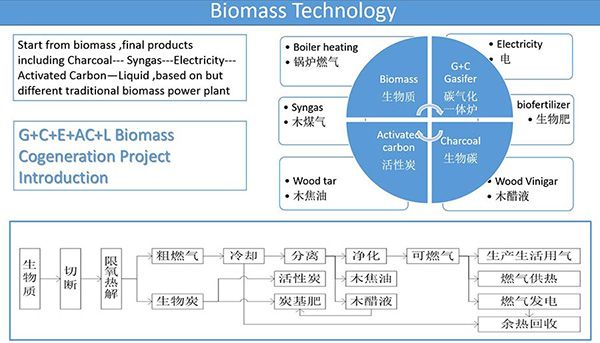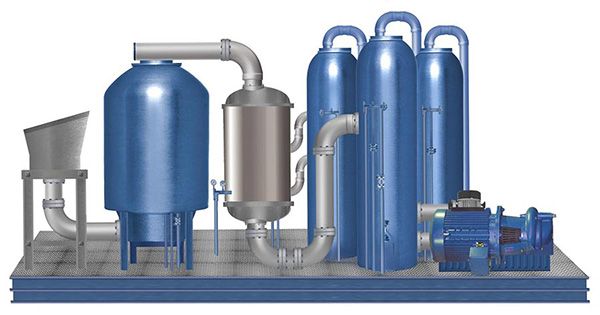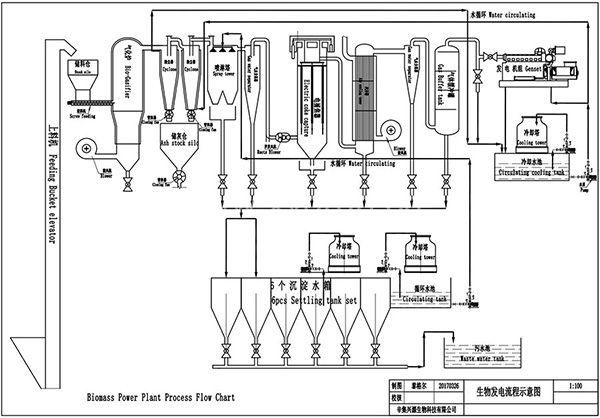 Raw Material Brief Introduction
| | | | |
| --- | --- | --- | --- |
| A: Rice husk | B: Sawdust or block | C: Peach kernel | D: Coconut shell |
| | | | |
| E: Palm shell | F: Wall nut shell | G: Jujube kernel | H: Haw seed |
| | | | |
| I: Almond kernel | J: Olive kernel | K:Hazelnut shell | L:Other biomass thing |
| | | | |
Forest biomass (including rice husk, fruit shells, trees' mess, wood based and bamboo based waste mess) and other agriculture waste things. These Forest and farm biomass things with advantages widely distribution source, regeneration, less Sulfur and Nitrogen content, it's a good green and sustainable source all of the world.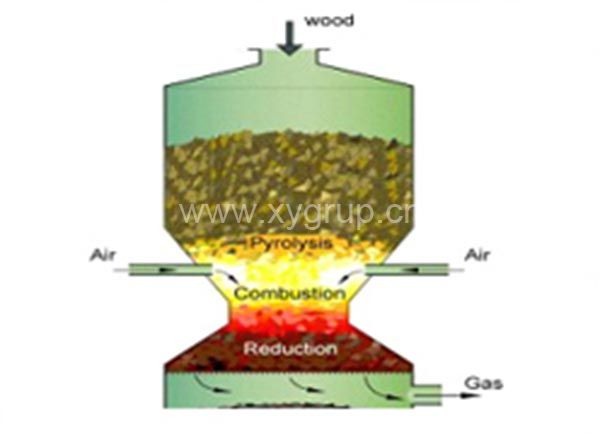 BIOMASS GASIFIER FOR THERMAL AND POWER APPLICATIONS
Biomass gasification is a process of converting solid biomass fuel into a gaseous combustible gas (called producer gas) through a sequence of thermo-chemical reactions. The gas is a low-heating value fuel, with a calorific value between 1000- 1200 kcal/Nm3 (kilo calorie per normal cubic metre). Almost 2.5-3.0 Nm3 of gas can be obtained through gasification of about 1 kg of air-dried biomass. Since the 1980's the research in biomass gasification has significantly increased in developing countries, as they aim to achieve energy security.
Xingyuan independently began research work in gasifier technology in the mid-2010. Since, the gasifier technology has been customized for a range of direct-heat application and tested successfully in the field. Silk processing, large-cardamom drying and gasifier-based crematoria are a few examples of the applications worked on at TERI. This technology is slowly replacing both traditional biomass use and gas-powered systems, as it provides an excellent de-centralized source of energy at an affordable cost. Apart from rural households, biomass fuels are the main source of energy to a large number of small, rural and cottage industries.
There are 2 main types of traditional biomass gasifiers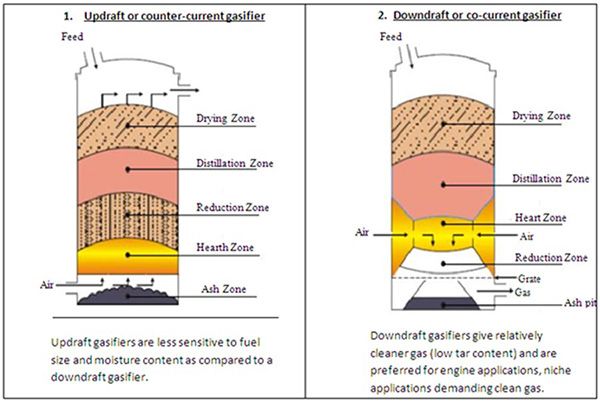 Features of Xingyuan's biomass carbonizer gasifier
Xingyuan is focus on the updraft gasification system, but not only limited by the traditional design.
Except the traditional gasification products electricity, Xingyuan combine the carbonizing technology, realized multi production gasification system.
Explanation for Xingyuan Carbonizer & Gasifier
Xingyuan gasifier improved by the Xingyuan carbonizing furnace, which is already run in Xingyuan factory more than 12years. The purpose of such gasifiers to comprehensive utilization the smoke(wood syngas) during the carbonizing process, but in the same time ,also take care of the charcoal output for Xingyuan next procedure activated carbon production . So it's not only a gasifier for electricity, it's also a carbonizing machine. That is why we call our Gasifier Xingyuan Carbonizer & Gasifier.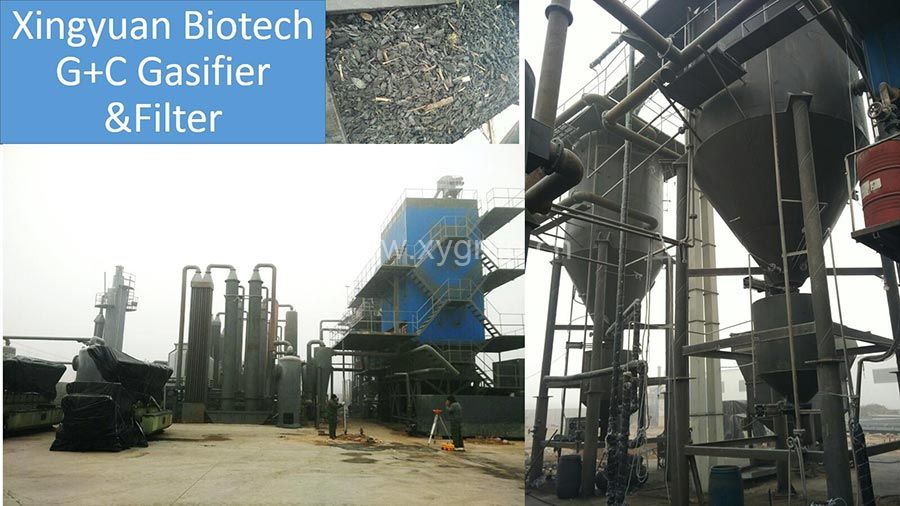 Multi-function & production Gasification System Design.
Program Final Products Introduction
Xingyuan gasification system products including: G+C+E+L ,
G---gas, wood gas after purification can used for the gas generator or as fuel for the boiler
C---charcoal, hard charcoal from wood and shell can directly use for activated carbon, soft charcoal can used for the mosquito coir or SHISHA charcoal
E---electricity from 200-nM KW, as design
L---- liquid , wood tar oil and wood vinegar , wood tar oil can used to make Biodiesel ,wood vinegar can used as preservatives and fertilizer for leaves plant.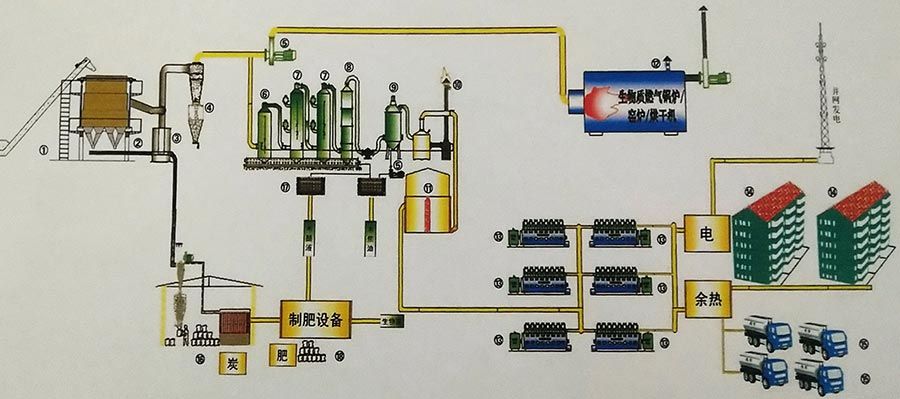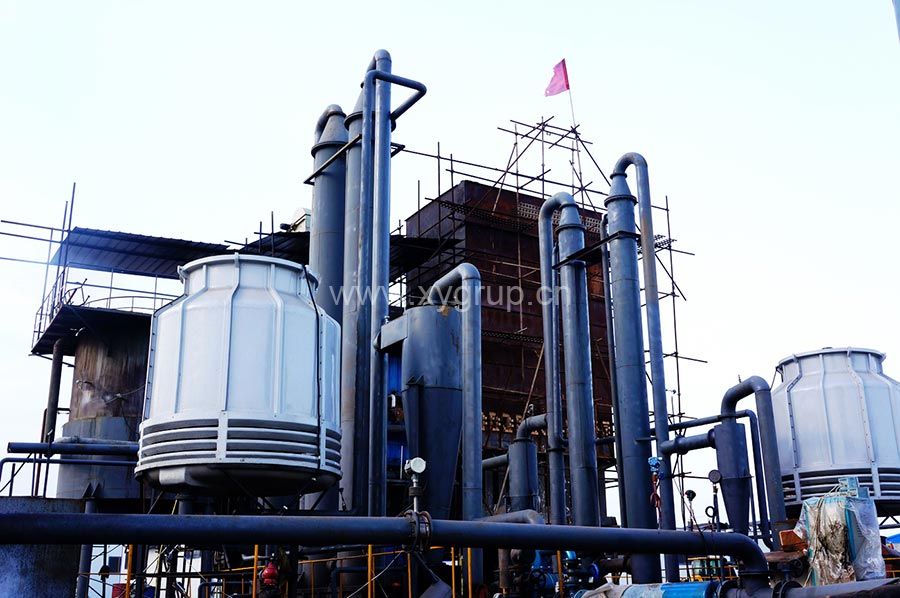 Xingyuan Gasification and Carbonizing Systems Data
| | | |
| --- | --- | --- |
| ITEM | Testing dataWood based | Remark |
| Item No. | XY-QHL2000 | |
| Rated raw material consumption | 400KG/H | 9.6MT/DAY |
| Rated gas creat QTY | 450-550 m³/h | |
| output Wood Gas temperature | 490-520℃ | |
| Gas creat change rate | 1.2-1.4 m³/kg | |
| Gas Calorific value and content | 1300-1600Kcal/m³ | Gas content:CH4 10% CO 16%H2 8.8% |
| Bio-charcoal output rate | 80-90KG/H | Moisture 20% |
| | | |
| Carbonizing rate | 18-21% | Based on Ideal wood block |
| Power generation efficiency | Generator 250KW | |
| Activated carbonActivated carbon | Based on charcoal moisture 15% | |
| Quality | MB Value 12ml | China standard |
| Change rate | 26-27% | |
What we can do by Xingyuan carbonizer & Gasifier?
Xingyuan already have an full comprehensive utilization power plant, as bellow: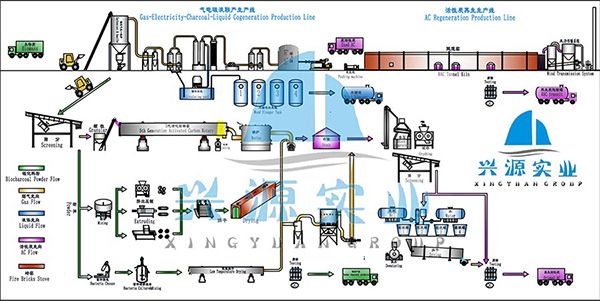 Xingyuan Bio-power Plant Flow chat

We can supply the right solution for you:
Solution-1: Bio-power Plant
This is a type of waste biomass treatment and multi-products project. This factory will focus on biomass utilization only. Use Xingyuan gasification technology, final main products will be charcoal +electricity+ wood vinegar.
Solution-1-2: Bio-Power + Steam Plant
This is the solution-1 upgraded version, change the gas genset into boiler system. gasification+ boiler system ,final products will be charcoal+wood vinegar +steam.
Solustion-2-1: Carbonizing Factory
This is a type of waste biomass treatment project. factory focus on charcoal making, main products will be various of Charcoal such as coconut shell charcoal, palm charcoal, bamboo charcoal, wood charcoal Olive charcoal, peach/apricot charcoal, hawthorn charcoal, etc. different raw material with different furnace.
Solustion-2-2: Carbonizing & Steam Factory / Carbonizing & Drying Factory
This is the solution-2 upgraded version, during the carbonizing procedure, collect the waste gas energy and used into boiler system or directly use the hot air for drying, can extra steam, main products is charcoal and steam or make a palm or coconut fiber drying production line.
Solution-3: Activated Carbon Plant
Based on charcoal raw material, like wood charcoal or shell charcoal or even carbonized coal, to produce different type of activated carbon with PAC (Powder Activated Carbon), GAC (Granular Activated Carbon), Extruded Pellets Activated carbon. A completely activation and AC treatment Line.
Solution-4: Carbonizing + Activation Factory
Together the solution-2 and solution-3, that's a traditional activated carbon factory, main products will be charcoal+activated carbon+extra steam.
Solution-5: Bio-power Plant + Activated Carbon Factory
Together the solution-1 and solution-3, that's a new technology biomass comprehensive utilization program. Final main products is charcoal,activated carbon, electricity, wood vinegar.
Solution-6: Activated Carbon Reactivation Factory
Waste activated carbon after regeneration can be reactivated, buy waste activated carbon from sugar factory, MSG factory or other industry , then regenerate in the kiln/furnace.
Solution-7-1:Activated Carbon + Reactivation Factory
Soluiton-7-2 : Carbonizing + Activated Carbon + Reactivation Factory
Biomass comprehensive utilization one-stop solution
Main Products Solution:
Bio-power Plant+ Activated Carbon + Reactivation Factory
By Products Solution:
Charcoal Powder can used for BBQ charcoal briquette, BBQ charcoal ball, Mosquito coil, Bio-fertilizer, Shisha Charcoal etc.
Activated carbon powder can used for Water treatment, Bio-fertilizer, activated carbon cubic, activated carbon plate etc.
Biomass power plant in Africa

Contact us for more information:
Please contact with us and let us know your simple information and request for our products, we will feedback as soon as possible.