Xingyuan BBQ wood charcoal making machine furnace
---Dry distillation carbonizing machine furnace
---High yield ,about 3.3:1
---batch output , -higher mechanization
---Best quality charcoal for BBQ use , charcoal size no limited .
Dry Distillation ---Rail Type Catbonizing Stove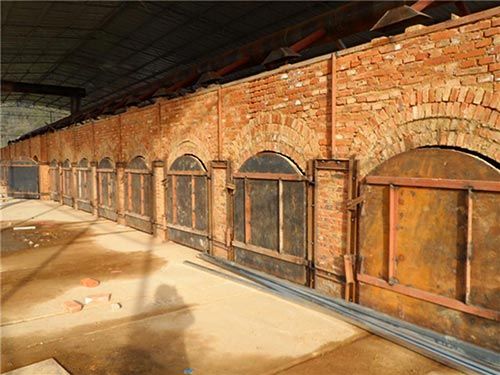 Dry Distillation---Hoisting Wells Type Stove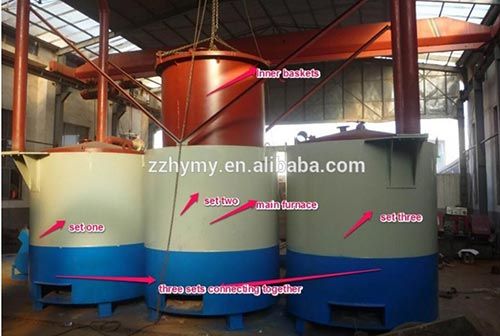 Dry Distillation---Xingyuan Rail Type Carbonizing Stove

Procedure and principle:
Stove with double layer design ,outside is stove, inner layer is dry-distillation kettle. Most need labor feeding, auto output or labor output. non-oxygen carbonizing, design is full use the wood gas from the dry distillation kettle during carbonizing, but actually need extra fuel like fire wood, gas, or coal etc. as heating fuel. it's a higher temperature carbonize method.
Capacity:
Dry-distillation kettle normally not with big size, normally load 1 MT wood, heating about 8-10hours, and seal cooling in the air 7-10days. Each kettle can output 300KGS charcoal.
Different between these types:
Feeding method & distillation kettle with difference , but need labor similar, as a semi-auto design , all need few stove fit with lot of kettle.
Advantage and dis-advantage:
Advantage:
1 Yield very high,about 3.3:1
2. batch output, more higher mechanization
3. Less labor than the traditional stove
4. Output charcoal is best quality for BBQ use, charcoal size no limited.
Dis-advantage:
1 Need some extra fuel as heating source.
2 Investment very higher.