Xingyuan Shells & Bamboo charcoal making furnace
---Energy saving

---Comprehensive utilization
---Long Life of Xingyuan Charcoal making machine
---Yield high, change rate is about 3.3 : 1
From 1990, XINGYUAN start from the charcoal making, focus on the shells charcoal making and activated carbon research and equipment development more then 28 years, now Xingyuan equipt bamboo and shell carbonizing furnace more than 30sets, activated carbon kiln 12sets. And non-stop to improvement the technology, combine the shell carbonizing, activation ,gasification process during the carbon industry, established a new factory to realize the carbon+heating+gas+electricity+liquid one stop solution, it's the first enterprise for such new technology.
What is the carbonizing furnace?
Xingyuan carbonizing furnace, or other names like Carbonizing equipment,carbonizing machine, carbonizing furnace, is a type of equipment, change the biomass things like to charcoal, according to the different biomass material can separated into coconut shell charcoal making machine, shell charcoal furnace, bamboo charcoal making machine, or shell carbonizing furnace.
How to make shell charcoal or bamboo charcoal?
Making charcoal from bamboo and many kinds of shells(like coconut shells, apricot shells ,peach shells, dates, palm shells etc.) mainly depends on high temperature carbonization to convert the shells and bamboo waste to charcoal, combustible gas, wood vinegar and tar, which is beneficial for the environment protection when compared with other traditional straw disposal methods. In addition, the shell carbonizing furnace is also helpful to reduce the energy consumption and realize the goal of increasing income and reducing expenditure. Thus more and more charcoal making machine manufacturers has focused on the research and development of bamboo waste and shells to charcoal equipment.

Xingyuan Shell Charcoal Machine in indonesia
Practicability of Xingyuan shell and bamboo carbonization equipment
Now China environment policy restrict day by day, even in this situation, Xingyuan shell carbonizing furnace still with big market in China. beside the China market, Xingyuan carbonizing furnace also export to Indonesia, Thailand, Philippine, Malaysia also. all with very good reputation.
Signification of developing Xingyuan Shell to charcoal machine
Environmental protection
The introduction of excellent carbonization craft can make residual material fully recycled and avoid waste pollution. For example, the waste gas and some ash will be purified to remove sulphur by spay dedusting system at first, so there is no tail gas discharged during the process. Moreover, the installation of condenser system can extract tar and wood vinegar from combustible gas, which has realized both environmental protection and new energy development.
Economic prospect
In addition to the high utilization value of final products produced by shell charcoal machinery, it can also create higher economic profits with the lower investment. Because of its excellent burning value, the shell charcoal maker machine has become more and more popular in the market. What's more, in recent years, more and more governments also pay more attention to the related projects and also have decided to give a bigger investment and supports, which is also an important reason why more and more merchants are eager to catch this great opportunity.
Energy development
The charcoal produced by shell carbonizing machine has greatly quiet the energy shortage and can be used as fuel directly instead of coal. It is also a renewable energy, thus the shell or bamboo to charcoal plant has responded to the international policy of sustainable development.
Nowadays, Xingyuan shell charcoal making machine has obtained public reception in the international market, and our company also provide top rate service for our clients, which will never make you disappointed!
Comparison Between the Rotary carbonizer and our vertical carbonizing furnace
As recently the rotary carbonizing machine is seems more auto design, so more and more overseas customers prefer to use that machine, but that machine with lots of design flaw and disadvantages, if want to know pls contact us for more details information.
Contact us for more information:
Please contact with us and let us know your simple information and request for our products, we will feedback as soon as possible.
Xingyuan carbonizing furnace design
Xingyuan bamboo and shell charcoal machine for sale has made a great break through no matter on carbonization technology or carbonizer design. With the continuous revolution and innovation, Xingyuan shell carbonization equipment has become more convenient and efficiency, which is always the best and first choice for customers.


Xingyuan Carbonizing furnace production line
Xingyuan carbonizing furnace advantages
A: Energy saving of Xingyuan shell charcoal making machine
1- Xingyuan shell charcoal making furnace no need drying process, One step from raw shell or bamboo block to the charcoal. the bamboo and shell charcoal machine designed without drying layer, so convey raw materials to the shell carbonization furnace directly.
2- No need any extra heating sources like natural gas or other fuel for the carbonizing furnace.
B: Comprehensive utilization of Xingyuan charcoal making furnace
Xingyuan shell and bamboo charcoal making furnace can designed with steam or hot air generation, to fit with the other factory like drying and steam using industry, to get extra profit from tis carbonization procedure.
1- Charcoal + Steam(or hot water)
2- Charcoal + Hot air
C: Long Life of Xingyuan Charcoal making machine
Xingyuan carbonizing furnace build by fire bricks which can stand 1400degree temperature, and normal bricks for the main body. As the longest furnace service life from our Xingyuan factory is about 12years, so Xingyuan shell charcoal making furnace with a longest service life. And that's the main reason in China all the charcoal making factory use our Xingyuan shell and bamboo carbonization furnace.
Main specification of Xingyuan Carbonizing Furnace
Item

Details

Model
XYCM-U04
XYCM-U06
XYCM-U08
XYCM-U10
Daily Feeding Capacity
13Tons
20Tons
26Tons
33Tons
Working Method
Batch feeding and output , continuous carbonizing
Raw Materials
1. Kinds of shells, such as apricot shells, coconut shells, olive shells, palm shells, candle nut shells, peach shells ,hawthorn seed ,etc. 2. Bamboo blocks, and other solid wood blocks etc.
Furnace Size(L*W*H)
4m*5m*6.5m
5m*5m*6.5m
7m*5m*6.5m
9m*5m*6.5m
Pattern
Vertical carbonizing furnace
Heating Materials
No need any fuel or heating material
Extra heating application
Can used for boiler or hot air boiler,with 1-2.5MT steam
Total Power
17kw/h
17kw/h
17kw/h
17kw/h
Land Area (L*W)
6m*25m
7m*25m
9m*25m
11m*25m
Operating Pressure
Constant Pressure
Cooling Method
Recycling Water Cooling
Life span
10-20 Years ,with 3-4years change the core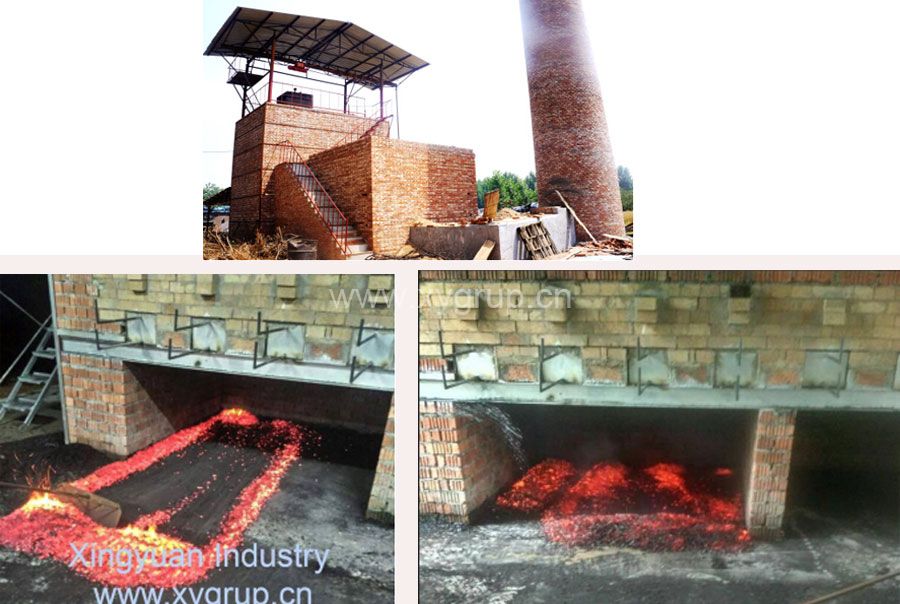 Xingyuan shell charcoal making furnace videos on yutube:
Coconut carbonizing furnace in HAINAN: https://youtu.be/cRi5HYzdW9w
Coconut shell charcoal making furnace in Maylaysia: https://youtu.be/Lv5iHXiFC54
Apricot shell carbonizer in China: https://youtu.be/XiWwCo4bBAQ
Xingyuan charcoal making machine raw material and products
As bellow can all use our bamboo and shell charcoal making furnace as the equipment.
With different materials like coconut shell, bamboo, olive shell, peach shell, apricot shell, candle nut shell , palm shell, hawthorn seed etc, we can get the different charcoal by our Xingyuan charcoal making kiln.
Raw Material
Charcoal
Carbonizing Equipment

1. Traditional Furnace

2. Dry-distillation Furnace

3. Gasification furnace

Wood
Wood Charcoal

1. Traditional Furnace

2. Dry-distillation Furnace

3. Gasification furnace

Bamboo
Bamboo Charcoal

1. Vertical carbonizing furnace

2. Gasification Furnace

Coconut Shell
Coconut Shell Charcoal



1. Vertical carbonizing furnace

2. Gasification Furnace

Palm Shell
Palm Shell Charcoal



1. Vertical carbonizing furnace

2. Gasification Furnace

Olive Shell
Olive Shell Charcoal



1. Vertical carbonizing furnace

2. Gasification Furnace

Date Shell /Jujubi date
Date Shell Charcoal



1. Vertical carbonizing furnace

2. Gasification Furnace

Apricot Shell
Apricot Shell Charcoal



1. Vertical carbonizing furnace

2. Gasification Furnace

Peach Shell
Peach Shell Charcoal



1. Vertical carbonizing furnace

2. Gasification Furnace

Candlenut
Candlenut charcoal



1. Vertical carbonizing furnace

2. Gasification Furnace

Hawthorn Seed
Hawthorn Seed Charcoal